Made in America
All alternators for sale are created in the United States of America
Here at Electrodyne, we work hard to separate ourselves from the competition. We do this first by supplying the best quality heavy-duty alternators in the world. Our product is unique and built to last in the harshest of conditions. If by chance the product is not living up to its potential, we will work with you to customize the alternator to ensure a consistently longer duration of life. The size of our company allows us to adhere to customers needs quickly and correctly. Customers always come first!
Learn More »
Why Electrodyne?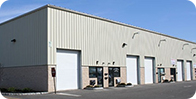 When the company began in 1974, Bob Sampson went out with one mission, to create the highest quality alternator on the market. He successfully accomplished his goal and Electrodyne has been a reliable source of alternators ever since. Simply put, we have the best product on the market today. If you can't take our word for it, read our testimonials for further assurance.
Learn More »
What They're Saying
"Been using Electrodyne alternators since the early 1980's. Over the years we've tried other brands, but always come back to Electrodyne"
Learn More »